US Secy of State Pompeo meets External Affairs Minister Jaishankar
M.U.H 26/06/2019 108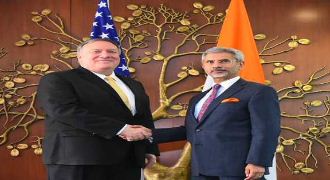 Top aide of President Donald Trump and the US Secretary of State Michael R Pompeo, who is here on a crucial visit, on Wednesday met his Indian counterpart and career diplomat-turned-External Affairs Minister Dr S Jaishankar.
Mr Pompeo called on Prime Minister Narendra Modi here in the morning. This is the first high profile meeting after a massive electoral win recorded by Prime Minister Modi.
Observers feel the renewed mandate has given the Modi government the green signal to take bold reforms to propel India towards faster growth.
Mr Pompeo also held a brief round of talks with National Security Advisor Ajit Doval at the South Block, the hub of country's External Affairs ministry.
The US is keen for a good trade ties and enhanced defence ties between two sides especially in the context of India's move to purchase S-400 defence system from Russia.
The US envoy Ken Juster held a series of important meetings during last two days. He met Union Finance Minister Nirmala Sitharaman here on Tuesday.
On Monday he had called on Defence Minister Rajnath Singh and shared his views on the meeting in a tweet saying: "Always a pleasure to meet again with Minister Rajnath Singh. Good discussion on the US India Defense relationship".
Washington has strongly favoured New Delhi lowering the trade barriers and "embrace fair and reciprocal trade".
"The Trump administration is working to ensure that American companies operating in India have the same level playing field that Indian companies enjoy in the United States. There is enormous potential to grow our trade relationship and create the high-quality jobs that Prime Minister Modi wants if India lowers trade barriers and embraces fair and reciprocal trade," an US government statement said shortly after Mr Pompeo landed in Delhi.
The statement seeks to show that the mood of the American side before parleys with Prime Minister Modi and External Affairs Minister Dr S Jaishankar is extremely positive and also tries to negate the atmosphere of disputes as being generally perceived especially in trade and over India's arms deal with Russia.
The statement says - "the bond between the US and India is unbreakable".
Meanwhile in the Lok Sabha on Wednesday, Commerce Minister Piyush Goyal sought to downplay the differences between the two sides on trade issues.
".....there are trade issues, but all of which are on the basis of sovereign interests of both the countries," Mr Goyal said during Question Hour.
Answering to supplementary queries, he said both the countries "protect their mutual trade and business interests and both the countries protect their strategic interest".
Terrorism, Afghanistan related issues, Iran-US conflict, trade issues between India and the US, Indo Pacific Region and other matters will figure at the Pompeo-Jaishankar parleys.
Notably, Mr Pompeo made an unannounced stopover at Kabul on Tuesday on way to Delhi from the Gulf region - where the Trump administration in engaged in a tussle with Iran.
India has favoured de-escalation of tension in the Gulf.